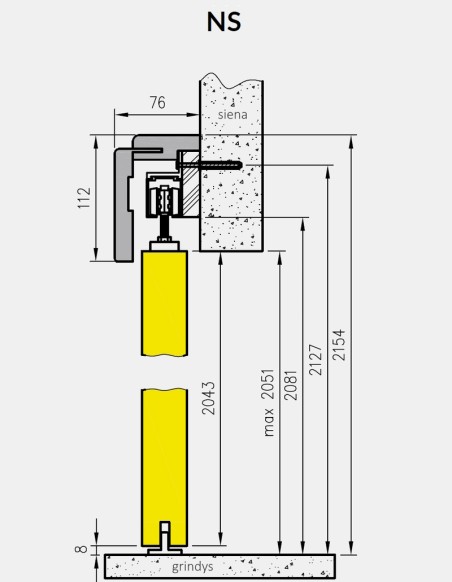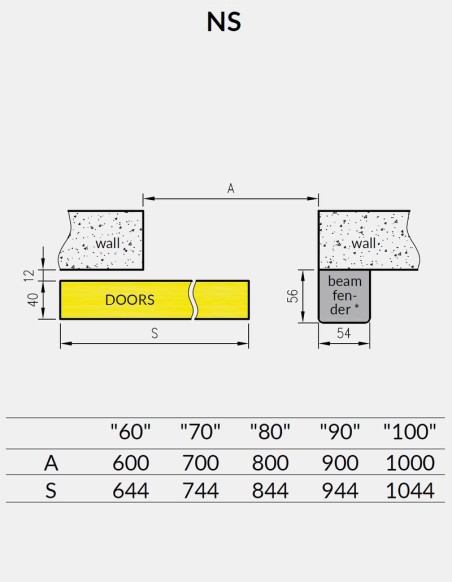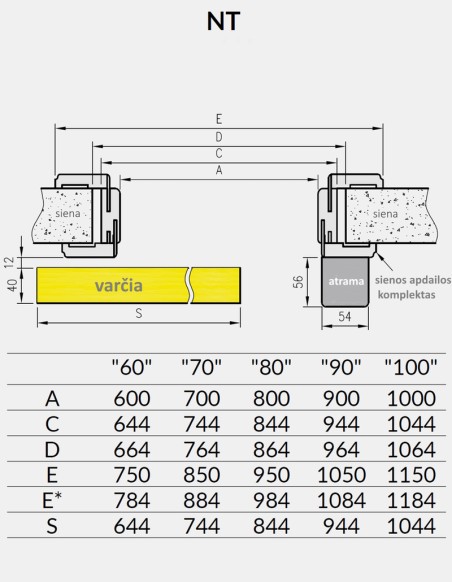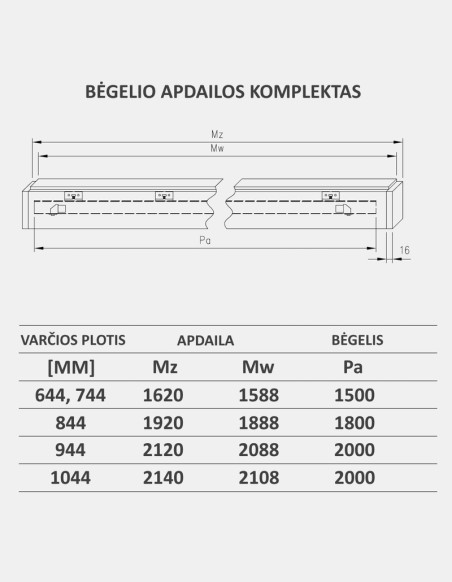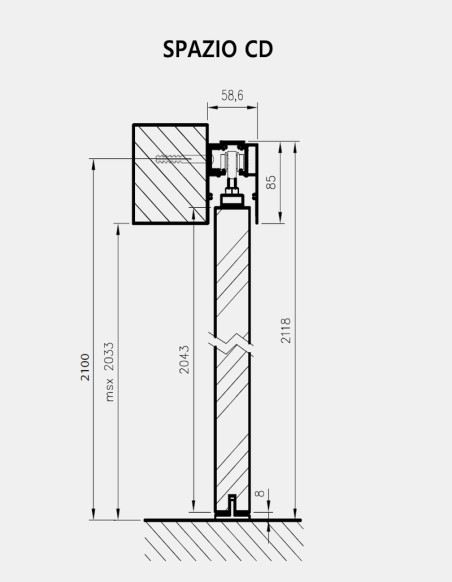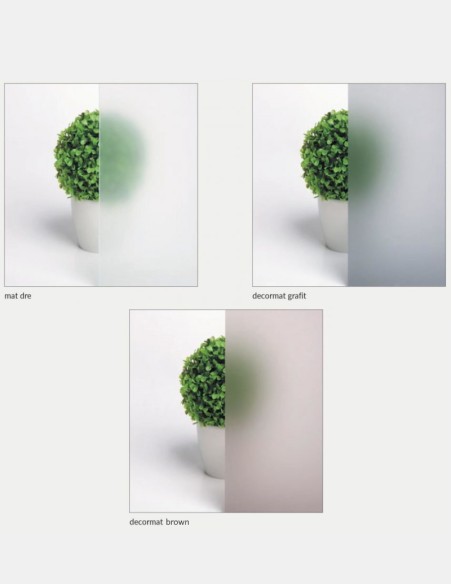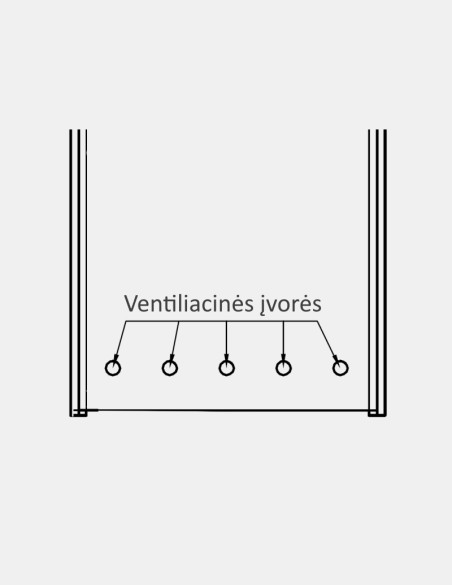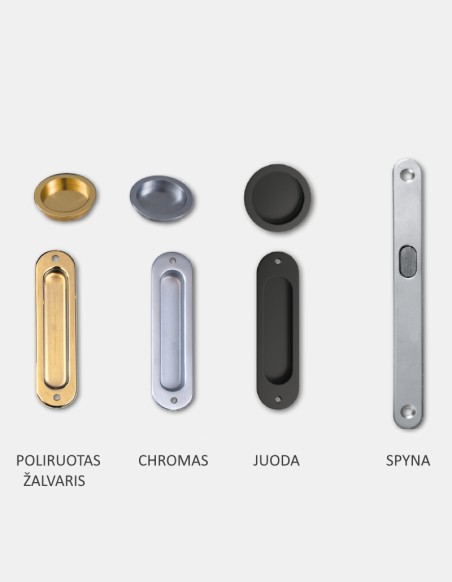 Sliding doors are a modern solution both in facilities with a large useful area and in much smaller rooms where limited space is one of the main reasons why it is worth choosing a door with a sliding system.

The highly functional design can be installed both directly on the wall and with adjustable trim. The wall sliding system can be equipped for single or double doors. Oval and round handles are available, which we offer in several color versions. Their installation uses a modern hook lock with a key, ensuring privacy and security. Sliding doors prepared in this way are, above all, very functional.

The door is ready for installation. Locks and/or handles may be provided in the door leaf.

We offer three types of sliding systems:

NS - the system is installed directly on the wall. The sliding system consists of: rail (LEON SN 150, 180, 200) with connecting parts, intermediate strip, rail finish.

SPAZIO CD - Wall-mounted sliding system with anodized rail cover.

NT - the system is additionally installed using an adjustable wall finishing "tunnel" kit with edging.

"FOSCA" is an interior door made with incredible precision and care, especially for you. A wide selection of plywood colors will allow you to easily and effortlessly match them to the interior of your dreams. All thanks to the strong and durable construction. If you value beauty and style and your requirements are high, this door is for you.

COATING: "DRE-Cell" laminate - durability, wide range of colors and aesthetic finish - wood-based laminates perfectly imitate wood and ensure the highest quality.

DESCRIPTION OF THE LEAF
The frame of the door leaf is made of high-quality wood base plate.

OPENING DIRECTION: Selectable for "left" or "right" scrolling.

COLORS: White Matt; White (textured); White pine; Siberian elm; Light gray Matt; Gray (textured); Sand oak; Whitened oak (textured); Vintage oak; Evoke oak; Marrone chestnut (textured); Caramel walnut; Golden oak (textured); Dark oak (textured); Gray oak (textured); Elm tabac; Elm anthracite; Dark wenge; Black (textured); Black Matt.

ADDITIONALLY CAN BE ORDERED: A set of handles; lock for the selected type of locking.
Coating

Laminate

Door leaf height

198,3 cm
204,3 cm

Door leaf width

64,4 | 74,4 | 84,4 | 94,4 cm

Glass

Clear
Matte

Warranty

2 years

Delivery time

20 - 40 working days
DOOR LEAF DIMENSIONS
Height: 198.3 cm; 204.3 cm.
Width: 64.4 cm; 74.4 cm; 84.4 cm; 94.4 cm; 104.4 cm.
Thickness: 4 cm.

DIMENSIONS FOR INSTALLATION OF THE NT/NS SYSTEM
Total height of system with trim: 215.4 cm (204.3 cm leaf); 209.4 cm (198.3 cm leaf)
Height of mounting rail to the wall: 212.7 cm (204.3 cm leaf); 206.7 cm (198.3 cm leaf)
Opening height: up to 205.1 cm - (204.3 cm leaf); up to 199.1 cm - (198.3 cm leaf)
Opening - leaf width: up to 60 cm - 64.4 cm leaf; up to 70 cm - 74.4 cm leaf; up to 80 cm - 84.4 cm leaf; up to 90 cm - 94.4 cm leaf; up to 100 cm - 104.4 cm leaf.

DIMENSIONS OF RESERVOIR SYSTEM WITH WALL FINISH KIT

External height of tunnel:
198.3 leaf - 199.7 cm (min. drywall height)
204.3 leaf - 205.7 cm (min. drywall height)

The outer tunnel height is covered with edging:
198.3 leaf - 206.7 cm (max. drywall height)
204.3 leaf - 212.7 cm (max. drywall height)

External width of tunnel:
"64.4" leaf - 64.4 cm (min. drywall width)
"74.4" leaf - 74.4 cm (min. drywall width)
"84.4" leaf - 84.4 cm (min. drywall width)
"94.4" leaf - 94.4 cm (min. drywall width)
"104.4" leaf - 104.4 cm (min. drywall width)

External width of tunnel with architraves:
"64.4" leaf - 78.4 cm (max. drywall width)
"74.4" leaf - 88.4 cm (max. drywall width)
"84.4" leaf - 98.4 cm (max. drywall width)
"94.4" leaf - 108.4 cm (max. drywall width)
"104.4" leaf - 118.4 cm (max. drywall width)

DIMENSIONS ARE REQUIRED FOR TUNNEL INSTALLING

HEIGHT:
198.3 leaf - 199.7 - 206.7 cm
204.3 leaf - 205.7 - 212.7 cm

WIDTH:
"64.4" leaf - 66.4 - 78.4 cm
"74.4" leaf - 76.4 - 88.4 cm
"84.4" leaf - 86.4 - 97.4 cm
"94.4" leaf - 96.4 - 108.4 cm
"104.4" leaf - 106.4 - 118.4 cm

SPAZIO CD SYSTEM DIMENSIONS
Total height of system with trim: 211.8 cm (204.3 cm leaf); 205.8 cm (198.3 cm leaf)
Height of mounting the rail to the wall: 210 cm (204.3 cm leaf); 204 cm (198.3 cm leaf)
Opening height: up to 203.3 cm - (204.3 cm leaf); up to 197.3 cm - (198.3 cm leaf)
Opening - leaf width: The opening width must be min. 3 cm smaller than the door leaf.
Finishing height of the rail: 8.5 cm
System thickness: 5.8 cm